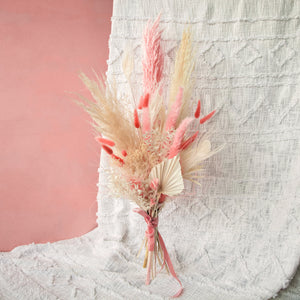 This bouquet is a bright and cheerful arrangement filled with bleached and bright pink toned dried florals. It contains dried pampas, palm leaves, peacock feathers, ruscus and bunny tails. Finished beautifully with a velvet ribbon.
Each dried bouquet is hand made with care using natural materials meaning each arrangement may differ slightly from the image.
Care: Our dried bouquets can last for several years. A minimum of 1-2 years if cared for correctly. Keep out of direct sunlight and draughts. Colours will fade slightly through time.
Dimensions (approximate):
Small - 35cm x 15cm
Medium - 60cm x 30cm
Luxe - 90cm x 40cm